Bungay
Castle Ruins, Fisher
Theatre, Riverside Walks
Bungay is north east of Suffolk, set in the Waveney
Valley. The town is full of listed buildings (mainly
18th century) and interesting architecture. It is full
of visitor attractions:
•
Bungay Castle (Bigod's Castle)
•
Fisher Theatre
•
Riverside walks
•
Canoeing Town Trail
•
Bigod's Way Walk
•
Museum
•
Three churches
Bungay is mentioned in the Domesday Book. The
Angles Way walk passes through the town so,
Earsham St B&B is very convienent for walkers.
The nearest train stations are Norwich (15 miles) or
Diss (17 miles).
Bungay for Walkers
There are beautiful walks in and around Bungay -
the Bigod Way walk and the Angles Way walk are
very popular. Earsham B & B is conveniently
situated for walking enthusiasts.

Fisher
Theatre
Fisher Theatre has a full
programme of events
including plays, National
Theatre Live broadcasts,
concerts, live music, films
and quiz and race nights.
It is also used for wedding's, celebration events and
meetings.
For more information visit
http://www.fishertheatre.org/
Other Attractions in
Bungay
Bungay is 17 Miles from Southwold, well known
for it's Pier and distinctive Beach Huts and Adnams
beer.
Bungay is 20 miles from the RSPB site at Minsmere,
a bird watchers haven.
A lot of the shops are independently owned which
is quite rare these days . Bungay is famous for
holding three street markets a year, starting in
Spring with the Flower and Garden Market,
Antiques in Summer and Christmas in December.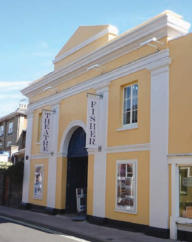 For Further information on what to do in Bungay, visit:
http://www.bungay-suffolk.co.uk/
also visit:
https://www.visitbungay.co.uk